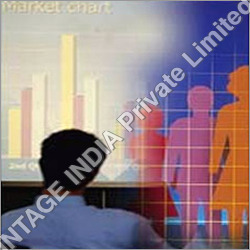 Product Description
We are a registered organization, engaged in providing the Quantitative Research Services. Our well-experienced professionals enable us to offer these services that are highly useful for scientific investigation, hypotheses and mathematical models. With the help of thorough research, surveys and observations, we provide these services with complete reports, graphs and charts. Furthermore, offered Quantitative Research Services are widely appreciated by our clients due to our professional approach.
Purpose of Quantitative Research:

To specify data and generalize results from sampling to the group of interest.
To measure the frequency of different views and opinions in a selected sample.
Erstwhile followed by qualitative research, which is effective in exploring some findings.
Normally, a large number of cases representing the population of interest. At random selected respondents.
Statistical data is commonly in the tabulations form. Findings are absolute and usually descriptive in nature.
Used to propose a final course of action.
Our quantitative research is mostly based on the worldwide accepted & proven scientific methods that cover:

Creating models, hypothesis & theories
Start from a predefined questionnaire
Controlling and fixing the variables
Collection of empirical data
Data modeling and analyzing
Utilizing the above preferred channels of data collection, we offer our customers the following primary quantitative research services:

Questionnaires Development
Data Processing, Analysis & Reporting
Questionnaires Translation
Questionnaires Scripting
Preparation of Recruitment Screener Form
Survey Audits
Business Analytic
Decision and Risk Analysis
Our team unites unmatched scholastic certification with in-depth practical business expertise drawing some of the world's topmost business organizations to rely on us, for their demands of market research.
Quantitative Questionnaires
Questionnaires are developed by ROP by using both online mode and paper-based questionnaires, and for telephone interviews, trained interviewers are appointed. This research approach can help in measuring a wide variety of issues for customer satisfaction and brand recognition.

Quantitative Market Research
Highly relevant market data used for specific market areas is evaluated on the basis of Research Optimus. This includes market performance analysis, historical returns, market size and market potential.

Macroeconomics Reports
Macroeconomic factors are assessed by ROP on both a localized and global basis. Our team of quantitative research reviews economic growth, sovereign debt levels, employment data and interest rates.

Financial Market Research
The analysis made by Research Optimus market issues such as fixed income instruments, impacting equities, commodities, structured finance products and forex. Alpha discovery strategies can also be included in our research as employed in investments quantitative analysis.

Credit Research
Customized and unbiased credit modeling is emphasized by ROP, along with third party agencies like Moody's, Fitch and Standard & Poor's validating credit ratings.

Financial Modeling
Quantitative models which can be customized for every diverse situation are produced by Research Optimus. Financial models developed by our team can be used for project finance scenarios, sensitivity analysis, synergy modeling, asset valuations and DCF/LBO analysis.

Quantitative Portfolio Analysis
A wide range of parameters are used by ROP to evaluate portfolios. We include predictions, forecasts, variance, fundamental analysis, return analysis and technical analysis.

Statistical Analysis
Statistical parameters employed by Research Optimus include regression analysis and standard deviations. Concise reports are prepared by us after performing hypotheses testing and advanced analytics that help in summarizing key findings.

Data Analysis
All relevant techniques of quantitative data are incorporated by ROP to effectively manage Big Data from all possible sources. Our team has advanced expertise in data aggregation, data mining, data validation, data analytics and data visualization.

Additional Qualitative Research
Qualitative research is performed by Research Optimus to supplement quantitative research as per the needs. The methods of our qualitative research include group discussions, interviews, workshops, ethnographic observations and customer satisfaction studies.

Risk Management and Derivatives Modeling
A quantitative approach is emphasized by ROP to manage risk. We also prepare customized risk reports, incorporate risk measurement, scenario analysis, model validation and stress testing for specific audiences.

Index Modeling
Quantitative models are customized by Research Optimus for both sell-side and buy-side clients. We can benchmark indices and test strategy along with providing index development.

Competitive Analysis
Competitors are evaluated by ROP from all pertinent angles of quantity. We include product and service comparisons, pricing strategies, competitor rankings, financial statement analysis and benchmarking studies.

Performance Analysis
Quantitative performance data for organizations of our clients are well-examined by Research Optimus. This is inclusive of a detailed look at business plans, information memorandums, pitch books, balance sheets, deal tracking, cash flow and income statements.

Reports and Presentations
Concise and professional reports and presentations are published by ROP which are always customized as per specifications of audience. Quantitative information is visualized by us with pertinent tables, images, graphs and statistics.

Get in touch with us